WARSAW
Rising global K-pop girl group ODD EYE CIRCLE is coming to meet their fans in Europe through their 2023 ODD EYE CIRCLE in WARSAW, live on August 9 at Palladium.
ODD EYE CIRCLE is a three-member K-Pop girl group unit under Modhaus Entertainment, consisting of members KIM LIP, JINSOUL, and CHOERRY. They captured the attention of international fans with their 1st mini-album, "Mix & Match", charting on Billboard's The Best K-pop Songs of 2017 and The 100 Greatest K-Pop Songs of the 2010s charts. During their promotions in 2017, they received great praise for their outstanding vocal skills and beautiful tones.
ODD EYE CIRCLE recently announced their new start with their mini album "Version Up" in July of 2023, surprising many fans and generating worldwide buzz around the album. This album consists of unique tracks and marks ODD EYE CIRCLE's return after seven years. Connecting their previous album with this upcoming album, the members each sport an eye patch, and show the unique characteristics of the existing ODD EYE CIRCLE, while adding chic and sophisticated charm, drawing keen attention from fans following the release of the teaser image.
With fascinating tracks and choreography that allow the group to show who they are, ODD EYE CIRCLE invites fans into their unique universe through a series of live performances. As it is the first tour of the new history that they are writing, 2023 ODD EYE CIRCLE is meaningful not only to fans but to ODD EYE CIRCLE as well.
Tickets for 2023 ODD EYE CIRCLE in WARSAW will go on sale on June 30, 2023, at 4:59 PM CEST local time.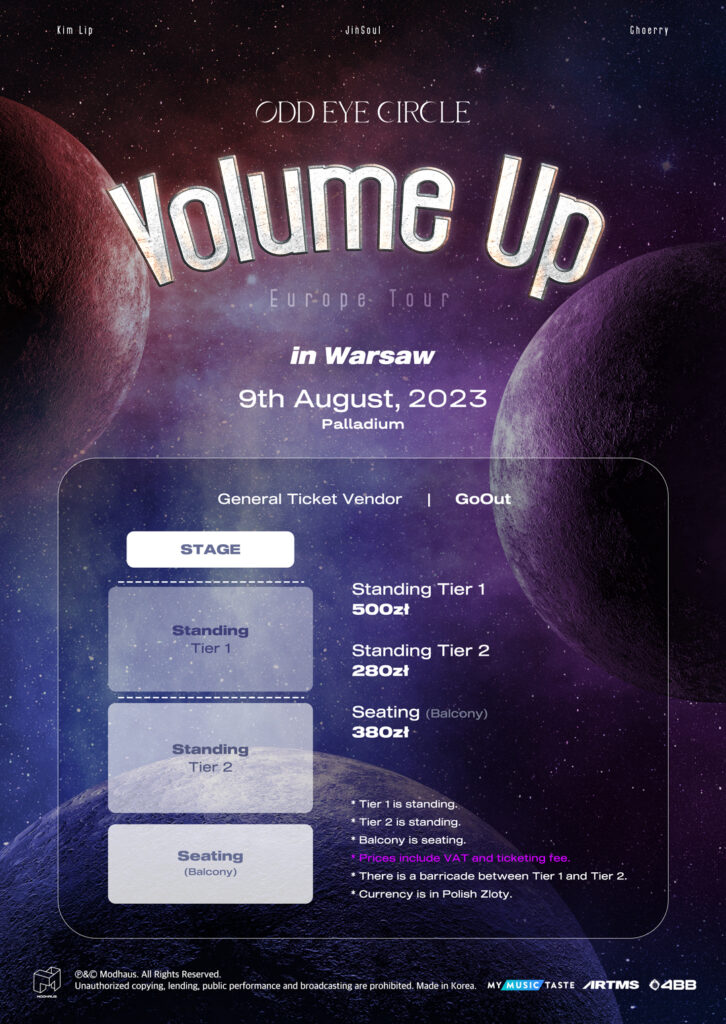 Podobne wydarzenia
scroll to top